Public lecture series (Goethe University Frankfurt)
Under the theme of "Female Skilled Labor Migration Across the Globe", the lecture series invites scholars, practitioners and anyone interested in gender and migration around the globe to an inspiring round of lectures and critical discussions on the topic (click: lecture series abstract). The public lectures feature significant contributions from scholars whose works on topics on gender in skilled migration in Germany, Europe and around the globe. If you are interested in any lecture topics, please register and join us.
* Detailed information about the first lecture (abstract, bio) will be updated soon.
The location details for in-person attendees and the online link for the virtual attendees will be sent a week before the event. For further questions, feel free to contact the conveners via the following email: quamafa@gmail.com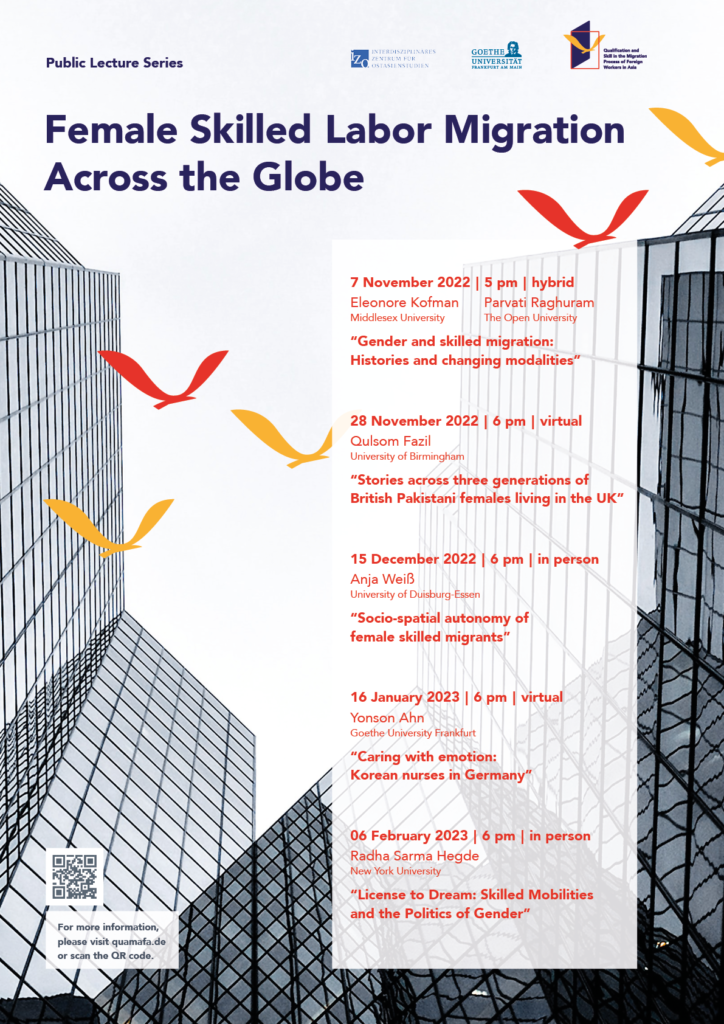 ---
ISA World Congress of Sociology (June 25- July 01, 2023; Melbourne, Australia)
Call for Abstracts (Due: September 30, 2022 24:00 GMT)
Session: Gender in Skilled Migration: Beyond Western Perspectives
Research on international skilled migration has proliferated but the underlying belief of the "skilled" worker as a white-male individual has largely stuck. The lack of attention to female skilled migrants was partly due to the definition of skills as technology/educational certificate-centered professions predominantly occupied by men. Another reason was the trailing wives' barriers to or withdrawal from the labour market given caregiving responsibilities. Skilled migration is also often associated with corporate expatriation, a phenomenon often known for Western firms that tapped into new markets and where the assigned expatriates were predominantly (white Western) men. In this joint session, we seek contributions of papers reflecting on international skilled labour migration and gender around the globe, specifically in non-Western contexts. We invite empirical and conceptual contributions that focus on the following questions: How has scholarship on gender in skilled migration beyond the West advanced – or challenged – the theoretical perspectives that originated in Western research? How does the intersectionality of gender, class, race, and skills play out in international migration? What can postcolonial approaches contribute to the field? How have family migration dynamics and power balances between breadwinner and trailing spouse changed amidst increased global migration and a diversification of emigration and immigration countries? The panel is particularly interested in papers on developed or rapidly developing countries or global cities as destinations, by which it seeks to discuss new approaches to gender in skilled migration from a non-Western/non-Eurocentric perspective.
Abstract submission: https://isaconf.confex.com/isaconf/wc2023/webprogrampreliminary/Session16250.html
Session Organizers:
Helena HOF, University of Zurich / Max Planck Institute for the Study of Religious and Ethnic Diversity, Switzerland, hof.helena@gmail.com
Joohyun Justine PARK, Goethe University Frankfurt, Germany, jo.park@em.uni-frankfurt.de
Ruth ACHENBACH, Goethe University Frankfurt, Germany, achenbach@em.uni-frankfurt.de
Megha WADHWA, Free University of Berlin, Germany, wadhwa.megha@gmail.com
Aimi MURANAKA, University of Duisburg-Essen, Germany, aimi.muranaka@uni-due.de
RC31 Sociology of Migration (host committee)
RC32 Women, Gender and Society
Language: English
---
Finding their Niche
Unheard stories of migrant women
A film by Megha Wadhwa
Film Screening
(in-person only)
24 June 2022
14:15 – 15:15
(FOLLOWED BY 30 MINS Q&A)
Venue: Freie Universität Berlin, Hittorfstr. 18, Altbau, 14195 Berlin
010/011 Hörsaal
An hour-long film documents the life of two Indian women migrants who moved to Japan more than a decade ago as trailing spouses. They were excited to be with their husbands and had no prior knowledge of the country. Looking into the lives of their relatives settled in the US, UK and Canada, they had similar expectations for their life in Japan. But the reality was different. Through their narratives we look into their past, present and future expectations, and their 'position' as Indian women, wives, mothers and workers in a foreign country, as well as the challenges they faced in 'Finding their Niche'.
Megha Wadhwa is a migration researcher and a Japanese and Indian studies scholar. She is the author of 'Indian Migrants in Tokyo'(Routledge:2021). For more about her, check this link – https://quamafa.de/blog/our-team/megha-wadhwa/
Film screening will take place after a talk with filmmaker
Dr. Andrew Lawrence (University of Manchester)
Click the link for details – 13:00 to 14:00 (Hybrid event) https://quamafa.de/files/2022/06/filmingfieldwork.pdf
Please register using the following link: https://bit.ly/filmingfieldwork
The event is part of the BMBF-Funded project Qualification and Skill in the Migration Process of Foreign Workers in Asia organized by the Institute of East Asian Studies, Japanese Studies, Free University of Berlin
With any further queries contact: megha.wadhwa@fu-berlin.de
Funded by Federal Ministry of Education and Research Germany
Supported by Freie Universität Berlin; Goethe Universität Frankfurt Am Main; Sophia University Tokyo
Editorial Support by Filmmaking for Fieldwork (F4F)
---
Filming fieldwork
Megha Wadhwa in conversation with Andy Lawrence
Hybrid Event
June 24, 2022 (Friday)
13:00 – 14:00 (CEST)
Please register using the following link: https://bit.ly/filmingfieldwork
(For mobile and tablet users please click on "poster" to see further details of the event)
---
18–19th July 2022
Graduate Student Summer School Goethe University Frankfurt
"Innovative Research Designs and Methods in Asian Migration Research: Embarking on Fieldwork in the 2020s"
Research designs, fieldwork techniques, and analytical tools for social science research have diversified in recent years. The pandemic was just one, albeit a crucial, turning point in considerations over research designs and methodologies. The spread of social media and digitalization however is a more long-term process that has urged researchers to reassess traditional research designs and add novel methodologies to their portfolio. Young scholars new to the research world and conducting a larger research project in the early 2020s face starkly different challenges and opportunities to those that senior researchers confronted. For example, the usability and reliability of new (digital) methods in an increasingly competitive academic world, where time in the field, availability of financial resources and even geographical mobility itself can no longer be taken for granted on the journey towards the PhD degree.
Research in migration, mobility and ethnic diversity in Asia adds further complexity to the picture of designing a research project and selecting suitable methods: We study those who are vulnerable, sometimes illegal, those who are discriminated/marginalized and have no voice in their current place of residence but also those who work-around-the-clock, who are hypermobile or whose visibility in their place of residence demands certain ethical and methodological considerations.
This workshop aims to bring together these challenges and offers a platform to jointly discuss new opportunities and constraints that arise in a rapidly digitalizing, pandemic struck world. We invite contributions from early PhD students, and late MA students who can demonstrate their plan of pursuing a PhD, who examine methodological issues related to migration, mobility and ethnic diversity in Asia. Questions and topics addressed can include but are not limited to
Considerations of how to deal with (repeatedly) interrupted field work and thus fragmentary/insufficient data
How to plan and conduct an on/off-research project within a limited budget and other issues, like time management and family responsibility
Use of mixed-methods research designs and multi-sited research in migration/mobility and ethnic diversity studies
Use of digital tools for participant recruitment, data collection, tracking spatial movements, or as an opportunity to develop novel research questions
Discussion on ethical and methodological issues in fieldwork (in Asia)
The workshop would include student presentations and roundtable discussions. In addition, the organizers of this workshop (interdisciplinary migration scholars and trained in various methods themselves), will share hands-on research practices, discuss the pros and cons of traditional (publishing in journals) and creative (blogs, YouTube videos, etc.) ways to disseminate research outcomes and stimulate innovative ideas for building a young scholar's career.
Application
The workshop will be conducted on 18–19 July 2022 at Goethe University Frankfurt. We welcome submissions from across migration, mobility and ethnic diversity research on Asia which are methodologically oriented in the social sciences. Please submit your short bio (100–150 words) and abstract (250–300 words), which discusses your (potential) research design or preliminary findings of your research. Once your abstract is accepted, please submit a short paper (1500–3000 words) describing your methodological concerns or fieldwork challenges.
Deadline abstracts and short bios: 15 April 2022
Notification of acceptance: 30 April 2022
Deadline for papers: 15 June 2022
Please send your application to the following e-mail address: quamafa@gmail.com
This workshop will be in-presence style, but depending on the situations of travel restrictions, it may be switched to online. Costs for transportation and accommodation during the workshop are fully covered by the organizer of the workshop. Please enclose a calculation of your estimated costs with your application.
For further questions, feel free to contact the conveners via the following email: quamafa@gmail.com
Conveners
Dr. Ruth Achenbach (Goethe University Frankfurt)
Dr. Joohyun Justine Park (Goethe University Frankfurt)
Dr. Helena Hof (Max-Planck Institute for the Study of Religious and Ethnic Diversity)
Dr. Aimi Muranaka (University of Duisburg-Essen)
Dr. Megha Wadhwa (Free University of Berlin)
This summer school is part of the project 'Qualification and Skill in the Migration Process of Foreign Workers in Asia' funded by the German Federal Ministry of Education and Research (BMBF), organized at the Interdisciplinary Centre for East Asian Studies (IZO), Goethe University Frankfurt.
---
Winter Term 2022:
Public Lecture Series in Frankfurt (To be announced)
Monday, 13 December 2021 (6pm/CET)
Online public Lecture by David Chiavacci (Professor in Social Science of Japan, University of Zurich) organised by IN-EAST in University of Duisburg-Essen
Registration: https://uni-due.zoom.us/meeting/register/u5YldeugqTwiGNBGLNjonWYqtJixd5vVvnyq