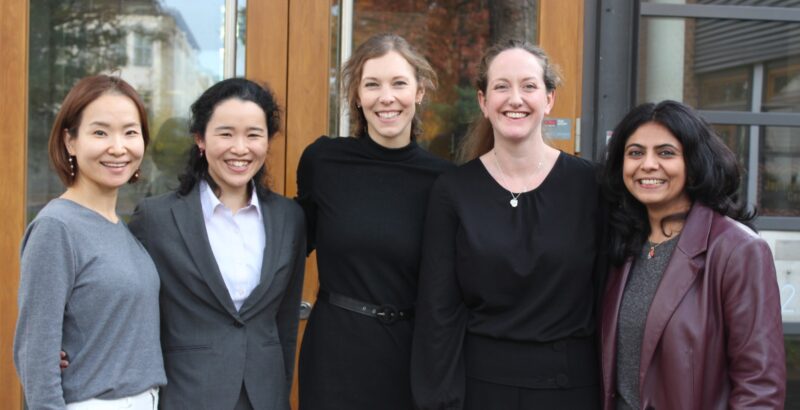 QuaMaFA team successfully organized the annual conference of the VSJF, which is the German Association for Social Science Research on Japan. The conference took place from November 3rd to 5th, 2023, at the Japanese-German Center in Berlin's Dahlem district, surrounded by the stunning autumn colors. The conference attracted nearly 90 participants, including 13 invited speakers, three roundtable participants, and one keynote speaker from Europe, Japan, and neighbouring Asian countries. Over three days, established and emerging scholars presented, debated, and discussed pressing social issues in Japan, as well as in wider regions of East Asia and Southeast Asia, with seriousness and a touch of humor.
The conference commenced with an enlightening and thought-provoking keynote speech by Professor Biao Xiang, Director of the Max Planck Institute for Social Anthropology in Halle. He explored the fundamental questions of cynicism, faith, and trust concerning human labor mobility and their implications in a globalized world.
After the keynote speech, we had four panels and a roundtable for the remainder of the conference which lasted for three days. The panels brought together empirical and conceptual presentations that discussed how economic and social uncertainties have led to career, geographical, relational, and educational mobility both within and beyond borders. The conference delved into how workers and their families aspire to, experience, and maneuver mobility internally, internationally, and transnationally. The presentations also analyzed how these processes are shaped by skills, gender, class, and ethnicity, and how governments and non-state actors affect labor and employment in contemporary East and Southeast Asia.
On the last day, the conference concluded with a roundtable discussion on the conference theme 'Labor and (Im)mobility in Japan and East and Southeast Asia', and it was led by three distinguished scholars of East Asian labor and mobility research: Professor Dong-Hoon Seol (Chonbuk National University, South Korea), Professor Hirohisa Takenoshita (Keio University, Japan), and Professor Yen-Fen Tseng (National Taiwan University, Taiwan).
The scholarly discussions continued over breakfast, lunches, dinners, and coffee breaks during the VSJF 2023. It was an excellent platform for networking and building lasting professional relationships. The conference facilitated an exchange between scholars from different generations, regions, and disciplines. We hope this will result in inspiring networks and enduring collaborative connects. Thanks to everyone's contributions and the support from VSJF, JDZB, and the three sponsors, the German Ministry of Education and Research (BMBF), the German Research Foundation (DFG), and Toshiba International Foundation. The QuaMaFA team fondly looks back on an immensely constructive, fruitful, and thoroughly enjoyable conference, where insightful discussions and collaborative efforts paved the way for valuable outcomes and strengthened team cohesion.
Here is a selection of beautiful photos from the conference captured by JDZB's in-house photographer Sascha Lück and QuaMaFA student assistant Karan Khatter.